Single Panel Machine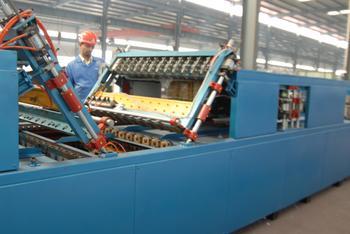 Product Name: Single Panel Machine
Model: ZH-1200D Series
Single Panel Machine is newly designed based on ZH-1200B type 3D panel machine.
It adopt PLC controlling system, touch screen operation surface, which can insert, cut, and locate the wire mesh and the EPS board automatically and accurately to complete the production of the 3D panel. It adopts PLC Controlling System, Touch Screen Operation Surface device.

Wire Mesh Structure
50mmX50mm
Welded Mesh Wire Diameter
2.5-3.0mm
Inserting Wire Diameter
2.5-3.0mm
Thickness of EPS core
100mm-250mm
Structure of Inserting Wire
sparse, dense inserting
single, double sides mesh
Distance between EPS Core and Mesh
10mm
Length
3000mm-6000mm
Width
1220mm
---