XPS Extruding Plastic Board Production Line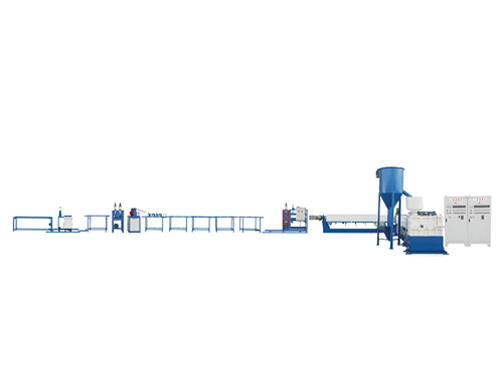 Product Introduction
XPS extruding polystyrene foamed panel, also named as expanded polystyrene extruded board (XPS for short) has a perfect closed-pore cellular structure of which the density, water absorption rate, heat conductivity factor and steam penetrating coefficient are all lower than that of other types of panel heat insulation materials, therefore it has many advantages such as: high strength, light weight, airtight, anticorrosion, ageing resistance and low price, etc.. It is widely used for frostbite prevention and heat insulation in construction industry such as highways, railways, airports, squares and family decoration, etc. which is regarded as the best thermal insulating material in the market by now.
Main Features
• The machine adopts PLC computer control, so the operation is convenient, easy and simple;
• Vesicant is injected into the machine from 150 screw which lowered the request on polystyrene recycling material by the equipment and greatly reduced the cost of raw materials;
• Users can regulate freely according to requirements with automatic width and thickness regulation function;
• Since C02 foaming and automation technology in future in respect of technical control has been considered, it is convenient to change the type and to renovate;
• The machine uses international famous brand products for major components, so the equipment can perform smoothly with low power consumption, long service life and high efficiency;
• The screen can be changed conveniently during production;
There are two cutting ways: blade cutting and saw blade cutting for free option.
Technical Parameter
---